News & Events
16/03/18 Munchkins Part Time Play Worker Position.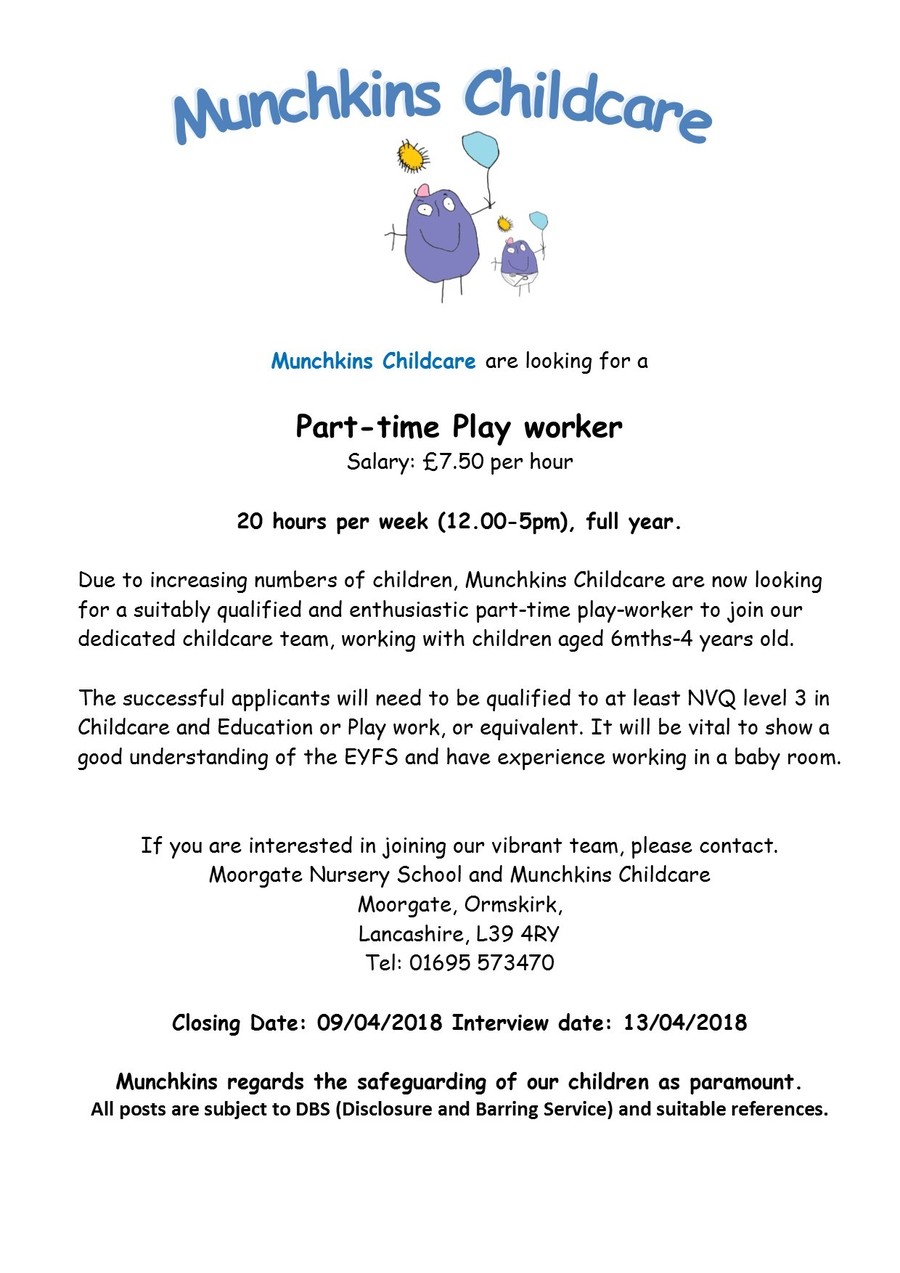 18/12/17 Children Centre Services
Please be aware that we no longer have any Children Centre Services or groups running from this building. The nearest Children Centre is now Park in Skelmersdale.
18/12/17 Christmas Jumper Day
Thank you to everyone who donated a pound on Friday, we raised £22 for Save the Children.
13/12/17 Merry Christmas
We would like to wish all our families, friends and colleagues a very merry Christmas and a happy 2018!
From everyone here at Moorgate Nursery School and Munchkins Childcare.
27/11/17 Children In Need
.The children and staff all wore spots on Friday to raise money for Children In Need. A very big thank you to everyone who donated money, we raised £52.83
Thanks You!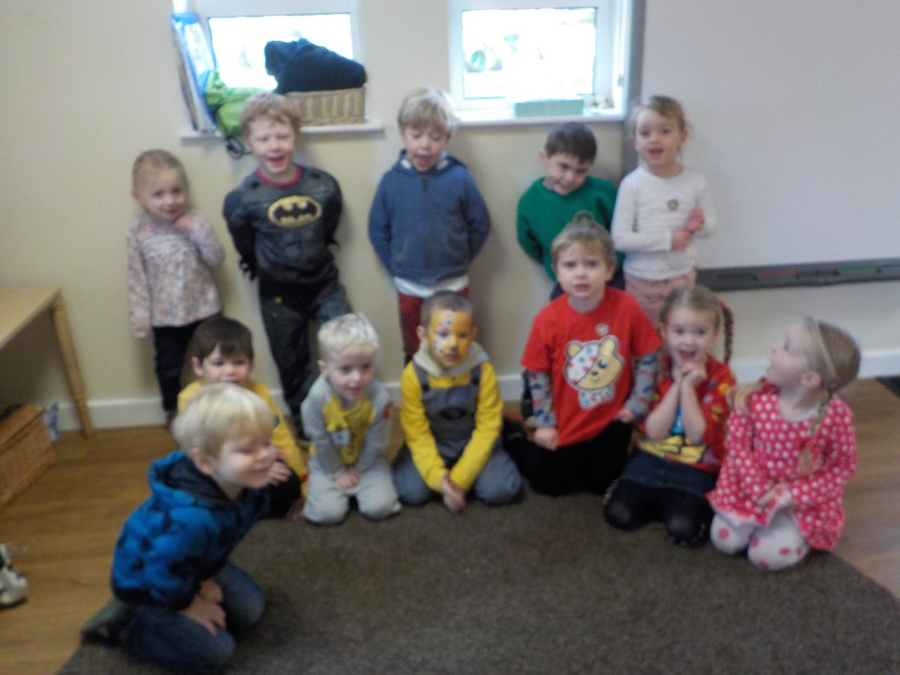 23/10/17 October Half Term
Moorgate Nursery School will be finishing for the half term holidays after sessions today Friday 27th October 2017 and reopening on Monday 6th November 2017.
Munchkins Childcare is open for holiday care for 2- 8 year olds throughout the holiday.
We hope that you all have a fun and relaxing week.
23/10/17 Diwali Celebrations
The children had lots of fun last week celebrating the festival of light!
02/10/17 Munchkins Room Leader Position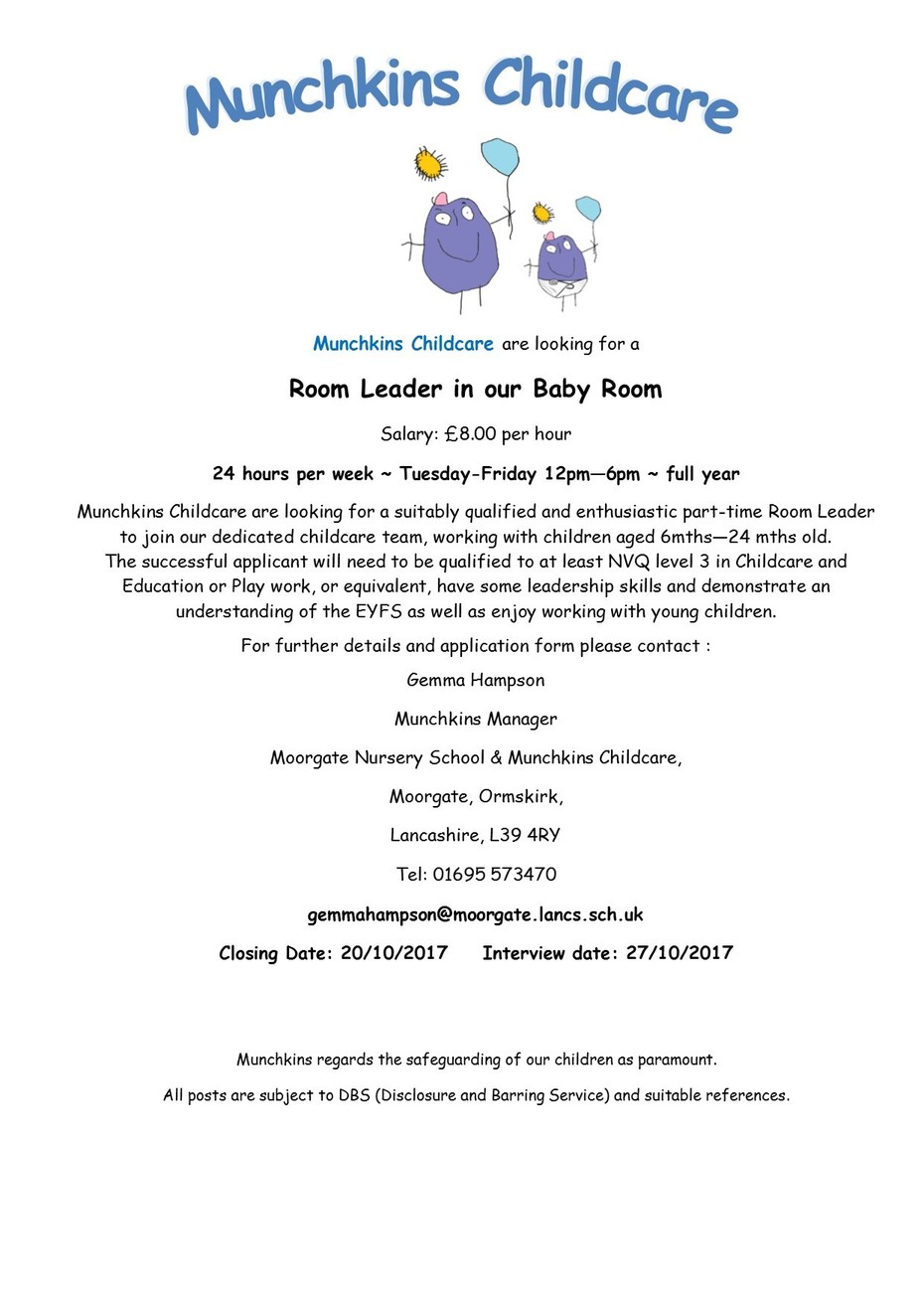 20/09/17 September Newsletter
September 2017 All Ready for School!
Look how smart two of our leavers from the summer look all ready for school in their new uniform! We hope they love school as much as nursery!
17/07/17 A Very Big Thank You!
A very big thank you and well done to all the children who completed our sponsored Treasure Hunt we have raised an amazing £424.25 which will go towards new resources for nursery.
11/07/17 Arriva Bus Visit to Nursery
Thank you to Mr Berkley who bought his Arriva Bus to nursery today. The children had lots of fun!
03/07/17 New Signage!
Our new signage has arrived and been installed by Billy with a little help from Jane and Sara!
03/07/17 Newsletter - June 2017
It is going to be a busy term make sure you make a note of all the important dates in the newletter. newsletter June 2017.pdf.
28/06/17 Forest School
Further to previous correspondence we would just like to confirm that the dates for Forest School in the newsletter are correct.
The next and last Forest School will take place on Thursday 13th July. If you can spare a couple of hours please, please sign up on our volunteers list so we can ensure we have our end of term feast in the Forest!
13/06/17 Forest School at Nursery
We couldn't make it to the woods last week so we brought Forest school to Nursery. Look at the fun we had!
24/3/17 Munchkins Deemed Good after latest Ofsted Inpection!
We are very proud to announce that our Munchkins Childcare received Good in its latest Ofsted Inspection. Copies of the report are available from the office or if you click the link Moorgate Munchkins Ofsted Report.PDF
20/3/17 Open Day Success!
Thank you to everyone who turned up on Saturday for our Open Day. It was lovely to see you all. For those of you who couldn't make it here are the latest pictures of our new baby room!
17.03.17 30 Hours Free Education
Dear Parents
As you are aware, all 3 and 4 year olds are entitled to 15 hours of free education per week.
From September 2017, some families will be able to access an additional 15 hours free education per week if both parents are working or the sole parent is working in a lone parent family.
The Government is funding the extension of the free education sessions, to support parents who currently work, wish to return to work, or to increase their hours.
Although you cannot apply until July, you may want to start planning now for the extra entitlement.
I am writing to inform you that this is something we will be offering at Moorgate Nursery School from September, and would urge you to seek further clarification if you think that you may be eligible. Further information about eligibility is available at www.lancashire.gov.uk/childcare
Moorgate Local Authority Maintained Nursery School, is a school with fully qualified Teachers and has the same requirements as Primary Schools.
If you follow the internet link, the title reads '30 Hours free Childcare'.
However, if you choose to send your child to a Private Nursery setting or a Local Authority Maintained Nursery school (Like Moorgate), eligible 3-4 year old children will be receiving education sessions and not childcare.
I am currently in the process of agreeing with the Governing Body about how we propose to offer the 30 hours as a school. However, please contact me if you would like any further information. head@moorgate.lans.sch.uk, telephone 01695 573470.
10.03.17 Baby Room!
Munchkins are very excited to announce that they are expanding. From 20th March 2017 Munchkins will be taking babies! Work is now well under way for our new Baby Room. Here is how the room used to look. We would like to share our progress with you all so stand by for updates....
10.03.17 Forest School Cancelled Tuesday 14th March 2017
Unfortunately Mrs Tjaveondja's training date has been rescheduled and so sadly she can no longer lead Forest School on Tuesday 14th March 2017.

Thank you to all who had volunteered to help us.

Next Forest School date is Wednesday 22nd March 2017.
19.12.16 Christmas Holidays
Nursery will closing after sessions on Thursday 22nd December and reopening on Tuesday 10th January 2017.
Munchkins Childcare will be closing on Thursday 22nd December at 1pm for 2 year olds and 4pm for the 3/4years olds. Please note that there is no after-school club on that day. Munchkins also reopens on Tuesday 10th January 2017.
We wish you all a very Merry Christmas and a happy 2017!
14.12.16 Christmas Jumper Day Friday 16th December 2016
Don't forget its wear your Christmas Jumper to Nursery on Friday 16th December.
Donations of £1 or whatever you can give would be greatly appreciated all money raised goes to Save The Children.
12.12.16 Festive Fundraising Fortnight
Festive Fundraising Fortnight - Monday 12th to Thursday 22nd December 2016
Raffle tickets and reindeer food available to purchase from reception. All proceeds will be used to buy new resources for the children.
Raffle Tickets are £1 a strip and prizes include:
Scotts The Butcher, meat voucher - £15
The Cottage - £10 voucher
O'Briens Tea Rooms - Afternoon Tea for Two
Eat, Drink, Love Ormskirk - Afternoon Tea for Two
Wine and many other prizes!
Reindeer Food is 50p a bag.
Please support us.
09.12.16 Forest School Monday 12th December
Just a reminder that Forest School will be going ahead on Monday for our Christmas Feast!
05.12.16 'Our Nativity'
The Children are now busy practising songs for the nativity. Don't forget dress rehearsal is on Monday 19th December and the Performance is on Tuesday 20th December at 11.15am.
21.11.16 Children In Need Spotacular
The children looked great dressed up all in all their spots in support of Children in Need on Friday. We raised £42.00 thank you for all your support.
16.11.16 Forest School Fun!
Lots of fun has been had at Forest School so far this year. Unfortunately we have had to cancel our trips on Tuesday 22nd November and Wednesday 30th November but we will be going again in December. Thank you to all the people who have volunteered so far we couldn't go with out you!
24.10.16 Half Term
Moorgate Nursery School will be finishing for the half term holidays after sessions this Friday 28th October 2016 and reopening on Monday 7th November 2016. Munchkins Childcare is open for holiday club for 2 - 8 year olds throughout the holiday.
We hope you that you all have a fun and relaxing week.
19.10.16 Thank You!
A big thank you to everyone who attended our Autumn Fair on Friday we raised £261.55. Here are some photos of all the fun!
Autumn Fair Friday 14th October 2016
Come and join the fun at our Autumn Fair 4.15pm to 6.00pm. There will be bacon sandwiches on the camp fire, raffle, tombola, craft activities and stalls from Phoenix Cards, Usborne Books and Scentsy Candles and much, much more!!! Please come along and support us.
We are Outstanding!
We very very proud to say that for the fourth consecutive time our Nursery School has achieved Outstanding!! Outstanding 2007, 2010, 2013 and now 2016! Copies of the report are available from reception or alternatively click the link: Ofsted Report 2016.
Tadpoles!
Our tadpoles have turned into tiny little frogs. Too tiny to show up on the photograph though!
A Very Rainy Forest School!
A very big thanks to the parents who spent an afternoon under the tarpaulin, soaked to the skin and counting gaps between the thunder!!! It was very exciting and we will remember that experience for a long time. The children were buzzing with excitement afterwards. Next date Friday 15th July!
Sponsored Treasure Hunt
A very very big thank you to all of you that took part in the sponsored treasure hunt we raised a huge £487 for Nursery School. Thank You!