Curriculum
The nursery curriculum is based on the Early Years Foundation Stage 2012 and 2014. The learning stages are divided into the three Prime Areas of learning:
Personal, social and emotional development (PSED)
Communication and language (CAL)
Physical development (PD)
And the four specific areas of learning are:
Literacy
Mathematics
Understanding of the world (UW)
Expressive arts and design (EAD)
The Prime Areas are the areas we develop first. Once children are secure in these areas in the appropriate age band they will move onto the specific areas of development.
Each area of learning is covered through planned, purposeful play. A balance of adult led and child initiated activities both inside and outside and at the woods enable children to learn through play and exploration, they need time and space and careful interactions from our trained adults to ensure they are inspired, challenged and supported to be creative and think critically. The activities are aimed at the children's individual levels of development enabling them to learn and succeed at a rate suitable to each individual.
We approach the curriculum through the children's interests and needs, we observe them, talk to them, listen to them, find out what they like, what inspires them and plan our activities and experiences accordingly. We will endeavour to send a newsletter home each month with news and ideas of how to help your child learn at home, related to what we are doing in nursery. If your child has any exciting news please tell us so we can let them share this with their friends!
Literacy
We lend books out to the children and encourage then to do so by offering certificates when 5 books have been borrowed. If your child choses to borrow the same book over and over-this is a good thing as it means your child is learning the pattern and structure of the story ready to re-tell it to yourself or us, a first step in learning to read! Each registration room has a file to sign your child's choice of book out and back in. Reading a story with your child before they go to sleep is a great way to ensure they become lovers of literature.
Mrs Bell is in charge of the Library service. She will ensure your child receives a Book Bag once all the new children have started nursery. She also organises visits to the library and invites the librarian in to tell us stories. This is to encourage you to visit the library with your child. We also have displays up in the library and your child's work may be on display for you to see!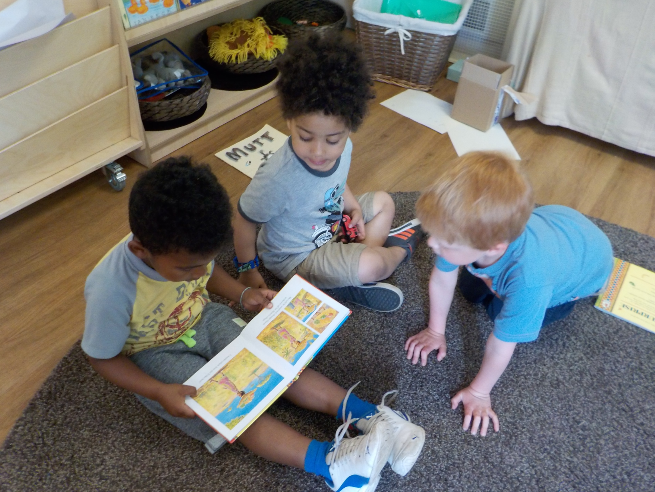 ICT
ICT is an aspect of the Understanding of the World area of the curriculum. We use ICT equipment throughout the nursery to support the children's learning. We have laptops, interactive whiteboards, programmable toys, digital cameras and video cameras. We also have a wealth of software and access to the Internet. At Moorgate Nursery School, we strive to ensure that all children learn to use the Internet safely. There is restricted access built into our system and the children will always use the Internet with an adult and under the guidance of their Key Person. We have a new e-safety policy that can be accessed on the website or there is a paper copy in the office.
To ensure we keep our children safe we ask adults not to use their telephones or smart watches in Nursery or near the children.
Useful links
Statutory Framework for the EYFS - www.foundationyears.org.uk/eyfs-statutory-framework/
The Early Years Foundation Stage (EYFS) sets standards for the learning, development and care of children from birth to 5 years old. All schools and Ofsted-registered early years providers must follow the EYFS, including childminders, preschools, nurseries and school reception classes.
Foundation Years - www.foundationyears.org.uk
The Foundation Years website is the best place to find information and support if you work in the early years and childcare delivering services for children and families.
There are also other useful links to games and resources under our 'Useful Links' section of the website.